Diana Gannett - Lady Bass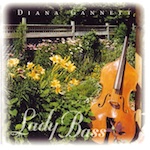 This re-release of Diana Gannett's Lady Bass album is a tribute to the artisrty that exemplifies the talents of the faculty at University of Michigan School of Music, Theatre & Dance. Now emeritus faculty, Gannett continues working her craft as a consummate bassist. Lady Bass features collaborations with Réne Lecuona and Scott Barnum,
Lady Bass (1997) is available for purchase from the iTunes Music Store. Previews of all selections will soon be available in the Block M Records catalog.
Privacy Policy
Photography Credits
Contact Webmaster: music.webmaster@umich.edu
Copyright © 2007 The Regents of the University of Michigan